Hi All!!
Have some fab news!! Do you wanna hear???
Well I'm bursting to tell you so here goes!!
I've got my first wholesale shop order!!! Wooooooo!!!
I'm so chuffed. It really makes it all worth it to be stocked in a local shop ;)
Had the appointment today and it went great!!! Eeeek!!
Here's the details if you ever visit lovely Lichfield or live locally and want to have a browse:
The Place
And opposite is the handmade shop where my items will be stocked !!
22 Dam Street
Lichfield
Tel: 01543-253-115
Email: contact-the-place@hotmail.com
Www.the-place-Lichfield.co.uk
I'm so grateful to Paula for giving me the time out of her busy schedule to let me show her my items :)
I do hope she likes them and you all do too!!
I have a few prototypes to perfect which I'll be sure to tell about them as soon as soon as their perfected! Also got some current items to make in different fabric that I picked up today.
A little bit of new beautiful linen French napkins I picked up today from La Maison Bleue.
I also tried out some new things yesterday.
This is my attempt at printing on linen fabric with a stencil and black fabric paint. Not too bad. Just need to make sure I line it up and it doesn't splatter!!
Very very keen to try this again.
Also tried a bit if button making. Fimo style!! Lol
Whatcha think?
I'm very very happy with these. And seeing as Hobbycraft has BOGOF offer on ceramic paint at the moment I can see me making a fair few of these beauties!!
But for now I will leave you with a pic of my present to myself
A beautiful metal birdcage hanging thingy!! The plan is for me to use it for taking pics of my items and for hanging things off it at the craft fairs. Brought at Heart of the Country. Swinfen at Magical Story.
It comes with these pics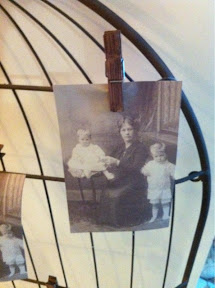 What do you think their story is then??
Night!!
Posted using BlogPress from my iPhone